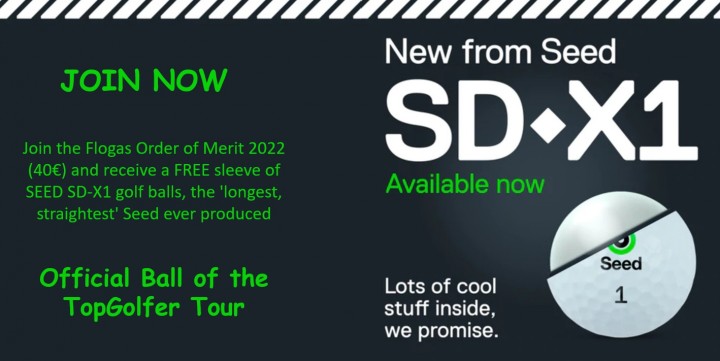 Join the Flogas Order of Merit 2022 (40€) and receive a FREE sleeve of SEED SD-01 golf balls, Official Golf Ball of the TopGolfer Tour.
TO PAY: PURCHASE ONLINE WITH DEBIT/CREDIT CARD VIA PAYPAL (40€) OR REVOLUT. EMAIL [email protected] TO ARRANGE.
PURCHASE YOUR FLOGAS ORDER OF MERIT MEMBERSHIP HERE
Pictured: Michael Stewart (2021 Champion) from Rockmount GC (centre) is presented with the Flogas Order of Merit Trophy from Dermot Synnott and John Rooney.
FLOGAS ORDER OF MERIT 2022.

We are excited to unveil a our 2022 Tour schedule along with our Flogas Order of Merit (OOM), leading to a season ending Tour Championship.
There are two ways to join the Flogas Order of Merit:
A) Simply pay 40 Euros membership fee via PayPal or at any of our events to join as an OOM member. All members receive a sleeve of our Official Golf Balls from Seed Golf, which can be collected at your first event. Players have the option to join the OOM at their 2nd event, accruing OOM points earned at their 1st / last event.
B) Win a Tour event (and get reimbursed your 40 Euro OOM membership fee).
-
All players must check in with TopGolfer staff before teeing off, so we can track your OOM ID and allocate your OOM points on completion. Once the last event has completed, the Top21 players plus ties will be invited to compete in the 2022 Tour Championships taking place at The Heritage Resort in October 2022.
Points will be awarded as follows:
FLOGAS ORDER OF MERIT (OOM)
POINTS TABLE 2022
Position
JSC Points
SSC Pts
Major Pts
1st
3000
3000
4000
2nd
2500
2600
4500
3rd
2300
2400
3000
4th
2100
2200
2800
5th
1800
1900
2600
6th
1400
1500
2400
7th
1400
1500
2400
8th
1400
1500
2400
9th
1100
1300
2000
10th
1100
1300
2000
11th
1100
1300
2000
12th
1100
1300
2000
13th
900
1000
1600
14th
900
1000
1600
15th
900
1000
1600
16th
900
1000
1600
17th
700
800
1200
18th
700
800
1200
19th
700
800
1200
20th
700
800
1200
21+
450
550
800
EVENT BONUS: Play in 4-events to receive OOM bonus points : +1000 OOM points.
All event winners will be invited to join the Flogas Order of Merit with winners OOM points.

Players wishing to join after competing can accrue points earned from their previous 1-event only.
Apart from positions 1st - 5th, OOM points will be grouped and divided according to players score.
NR's will be awarded standard OOM points, i.e. SSC 550, JSC 450.